No matter the season, there's an outdoor facility to enjoy in the City of Cornwall. In the summer, enjoy outdoor pools and splash pads. In the winter, enjoy outdoor skating rinks.
Weather is an important factor affecting the operations of these facilities - be sure to follow the City of Cornwall on Facebook, Twitter and Instagram to stay informed on changes to schedules.
For more information on programs available at the City's outdoor facilities, please click on the links below:
Winter Facilities
Be sure to check out our Winter Wonderland page, as well as Lamoureux Park and Guindon Park for more outdoor play opportunities.
Big Ben Ski Centre
Click here to view the COVID-19 plan.
Big Ben Ski Centre is open! The hill has offered skiing in Cornwall for over 40 years and is operated in partnership with the City of Cornwall.
Big Ben Ski Centre can be accessed from Seventh Street West, across from the Benson Centre entrance.
Monday to Friday: 5:30 p.m. to 9 p.m.
Saturday and Sunday: 10 a.m. to 4 p.m.
Big Ben provides a wire cable lift with tow handle, snowmaking and grooming, a terrain park, night skiing on Wednesday, Thursday, and Friday, a heated chalet, change trailer, washrooms and a snack bar.
Big Ben Ski Centre does not provide ski or snowboard equipment rentals. NOTE: Helmets are required in the terrain park for all users and registrants in our ski and snowboard school.
Click here to visit the Big Ben Facebook page.
Ski and Snowboard School
The program begins each January for children four years of age and up. Prices are inexpensive and lessons are taught by experienced, friendly instructors. Private Lessons must be reserved 24 hrs in advance. (Group Lessons will NOT be offered this year)
For more information please call Big Ben Ski Centre at 613-933-6377 (during season), the Department of Planning, Development and Recreation at 613-938-9898 (off season) or click here to email skibigben@gmail.com.
Outdoor Rinks
Under current provincial lockdown measures to reduce the spread of COVID-19 outdoor skating rinks remain open with some specific guidelines as recommended by the Eastern Ontario Health Unit. The Health and Safety Guidelines are listed below.
Enjoy volunteer- run outdoor rinks in Cornwall! Weather conditions and the availability of volunteers play an important role in the opening date and quality of outdoor rinks.
Rink hours during the winter season are 7 a.m. to 10 p.m. (Optimist and King George Park feature lights, which are on from 5 p.m. to 10 p.m. nightly)
Outdoor Rink Locations:
Dover Heights Park - Dover and Robertson - limit of 12 skaters
Gallinger Park - Lottie Avenue - limit of 10 skaters
Grant Park - Kennedy and Grant - limit of 25 skaters
King George Park - Seventh and York - limit of 18 skaters
Lamoureux Park - Water St - limit of 7 skaters
Mattice Park - Edward St - limit of 14 skaters
Memorial Park - Bedford and Third - limit of 14 skaters
Menard Park - Concorde Ave - limit of 17 skaters
Optimist Park - Sunnyside and St. Michel - limit of 20 skaters
Reg Campbell Park - Leitch and Fraser - limit of 20 skaters
Terry Fox Park - Mercier and Ross - limit of 4 skaters
---
Outdoor Rink COVID-19 Health and Safety Guidelines
Please note the following recommendations from the Eastern Ontario Health Unit.
For the enjoyment and safety of all skate participants, please respect the following guidelines. The City of Cornwall reserves the right to refuse service to anyone found in violation of these guidelines.
Outdoor Rink Guidelines by Provincial Order
All indoor facilities associated with outdoor rinks shall remain closed.
Any person who enters or uses the amenity is required to maintain a physical distance of at least two metres from any other person not in their household.
Come back later if two metre distancing is not possible.
Wearing a mask outdoors is recommended.
Do not congregate. Groups of more than five people from different households is prohibited.
Team sports or games must not be practiced or played within the amenity. Nets will not be provided at this time.
Team recreational or sport associated classes and practices are not permitted.
Maximum limit for skaters per rink is listed above and varies based on rink size.
Neighbourhood rinks are for casual recreation only.
Do not share equipment with individuals from other households.
If the general public cannot respect the public health requirements (such as physical distancing, gathering limits, no team sports/activities where people may come within two metres of each other), the outdoor rink may be closed.
Screening
If you are showing symptoms or feeling unwell please stay home.
If you have travelled outside of Canada in the past 14 days please stay home.
If you are a close contact of someone who has tested positive or are waiting for test results for COVID-19 please stay home.
Masks and Face Coverings
You should wear a mask where it could be difficult to maintain a two metre distance from people outside your household, for example masks should be worn in seating areas and high traffic areas, from parking lot to skating rink, when putting skates on and taking skates off, if possible when on the ice.
Masks are not mandatory while skating but are highly recommended.
Hints to Stay Safe
Practice physical distancing keep a distance of two metre from others
Wash or sanitize your hands before and after visiting outdoor rink.
Do not use the rink if you are feeling unwell or show signs of COVID-19
Come back later if physical distancing is not possible.
Use at your own risk benches/picnic tables will not be sanitized.
Please do not gather/loiter in sitting or parking areas.
Please do not share equipment including skates, gloves, sticks.
Wear CSA approved helmets and protective equipment, not mandatory but recommended.
Summer Facilities
Ball Hockey Court
If you love to play ball hockey, you will want to visit our outdoor ball hockey court at St. Francis De Sales Park. The recently transformed tennis court is fully fenced in, which ensures the ball will always be in play. The court also comes equipped with 2 hockey nets.
This is the perfect place for youth to meet up to play with friends or to provide the more seasoned player an opportunity to turn back the clock for a pick-up game.
Game On!
Location
St. Francis de Sales Park
419 Second Street West
Marina 200
The hub of boating activity on the Cornwall waterfront is Marina 200. The marina is a first-class facility with a capacity of 160 boats and is located east of the Cornwall Civic Complex on the St. Lawrence River.
This season, Marina 200 is open from May 9 to October 3, 2021 at noon.
Notice: Fuel services will be available for the 2021 season.
Neighbourhood Parks
Residents and visitors alike can enjoy 40 parks across the City of Cornwall. These green spaces offer a mix of playground equipment, outdoor pools, basketball courts, ball diamonds, splash pads, tennis courts, and activities such as the Summer Playground Program.
Click here for a PDF map of all the parks in Cornwall.
Click here for a detailed listing of all parks and amenities offered at each.
Outdoor Pools
Outdoor pools are closed for the season.
Enjoy a cool pool on hot days! The City of Cornwall operates five outdoor pools in July and August. All pools have five lanes measuring 25 metres with an attached wading pool.
St. Francis Pool - 419 Second Street West
Terry Fox Pool - 304 Mercier Street
St. Joseph Pool - 1310 Easton Avenue
Reg Campbell Pool - 637 Fraser Avenue
Mattice Pool - 30 Edward Street
For information about pool programs, schedules and fees, please click here.
Pickleball Courts
Pickleball is a sport that combines the elements of tennis, badminton and ping pong. It looks like tennis, sounds like ping pong and favours the same on-your-toes action of badminton. Pickleball is a sport in its own right, and by all accounts it is the fast-growing sport in not only Cornwall but Ontario, Canada and North America!!

In teams of two, players use small paddles to volley a ball, similar to a wiffleball, back and forth over the net. It is a game that is appropriate for players of all ages and skill levels and the rules are simple, making it a great introductory sport. Pickleball can also be quite the challenging, fast-paced, and competitive game when people become more experienced at playing.

Outdoor Pickleball Courts
Currently the City of Cornwall operates 16 outdoor pickleball courts. Pickleball courts are available for play at Broadview Park and Terry Fox Park. Dedicated pickleball court time is available on Monday and Wednesdays at Broadview Park, while Terry Fox hosts pickleball first on Tuesdays and Thursdays. Use of the courts is on a first come, first play basis. Thank you for your cooperation.
| Pickleball Courts | First Priority |
| --- | --- |
| Broadview Park (499 Henry Street) | Mondays and Wednesdays |
| Terry Fox Park (304 Mercier Avenue West) | Tuesdays and Thursdays |
Indoor Pickleball Courts
Four indoor courts are available for rent at the Benson Centre. Please call 613-938-9898 x 0 for more information on available dates, times and fees.


Pickleball Online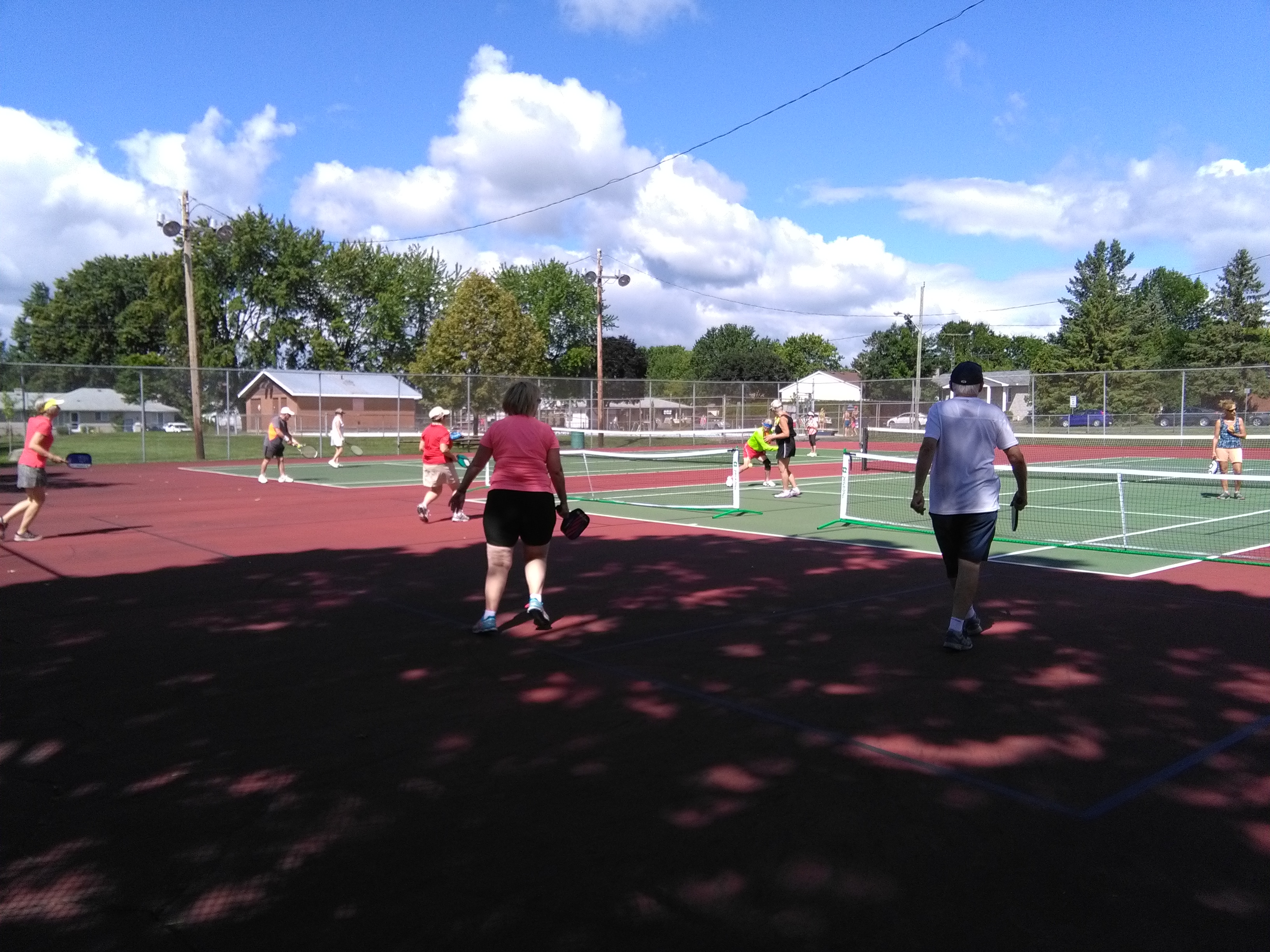 Recreational Path
The City of Cornwall has a comprehensive network of about 40 kilometres of recreational paths that allow people to walk, bike and rollerblade along the St. Lawrence River and throughout the city.
The largest part of the recreational path spans the entire waterfront, offering great views of the St. Lawrence River. This part of the recreational path is also part of the Waterfront Trail, which stretches from Niagara-on-the-Lake to the Quebec border.
Click here to read the Recreational Path Guide.
Click here for a map of the Recreational Path along with points of interest.
Click here for a map of the Recreational Path and neighbourhood parks.
Skateboard Park
The Cornwall Skateboard Park opened for business during the summer of 1998 with the help of Menard's Rona Home Centre, Partir d'un bon pas, Molson Canada Ltd., and the Cornwall Police Association.

The Skateboard Park was christened "El Rancho" by the skateboarders.

The Park is located at the south end of Optimist Park on St. Michel Drive. It consists of 4 ramps, 3 quarter pipes, and 1 fun box.

El Rancho will be operating seasonally from early May through mid-October, 7 days/week from 7 a.m. to 11 p.m.

This popular facility is also being utilized by in-line skaters and BMX trick bikers. For more information on the skateboard park, please call 613-938-9400.

Cornwall Skateboard Park Rules & Regulations:
The skateboard facility is open to the public daily from 7:00 a.m. to 11:00 p.m.
The skateboard facility is unsupervised. Use area at your own risk.
The City of Cornwall strongly recommends that protective clothing and equipment (helmet, knee pads, elbow pads and wrist guards) be worn at all times.
The City of Cornwall accepts no responsibility whatsoever for injury or damage however caused.
Please use the garbage containers provided.
Splash Pads
The City of Cornwall has three splash pads to keep young residents cool on hot summer days. These free-standing facilities are great for children of all ages and feature various water spray elements.
Splash Pad at Lamoureux Park
The Lamoureux Park splash pad is located between the children's play structure and the Cornwall Community Museum. Along with the splash pad, there is a washroom facility and concession stand.
Lamoureux Park is located along Water Street in Downtown Cornwall.
Splash Pad at St. Theresa Park
Come explore our playful pirate-themed splash pad at St. Theresa Park! The splash pad is also equipped with a washroom facility.
St. Theresa Park is located at the corner of Thirteenth Street and Churchill Street.
Splash Pad at Riverdale Park
Check out our nautical-themed splash pad at Riverdale Park! Washrooms are available on site.
Riverdale Park is located at Dover Street and Riverdale Avenue.
For more information about splash pads, call the Cornwall Aquatic Centre at 613-933-3586.
Sports Fields
Municipal softball fields can be found at the following locations in the City of Cornwall:
Adams Park: Twelfth Street and Sydney Street
Broadview Park: Henry Street and Thirteenth Street
Joe St. Denis Park: Marlborough Avenue and Fourth Street
King George Park: Seventh Street and York Street
Kinsmen Park: Third Street and Carleton Street
Optimist Park: Sunnyside Street and St. Michel Drive
Reg Campbell Park: Leitch Street and Fraser Street
The City of Cornwall also maintains two soccer pitches at Optimist Park.
The Kinsmen Minor Soccer Association maintains and coordinates its own soccer fields on Second Street West between Power Dam Drive and Saunders Drive.
For the following issues requiring immediate attention, please call the Civic Complex (613-938-9400) during business hours, or call the duty sub-foreman at Public Works (613-932-5354) after hours and on weekends. Please note that if there is criminal activity or vandalism in the park, call 911.
Lights are on past 11 p.m.
Doors to washrooms or storage areas left open
Playground equipment broken
Fallen branches or trees
Swimming pool gates left open after hours
Tennis Courts
Click here to learn more about playing tennis during COVID-19.
Outdoor Tennis Courts
Looking for a tennis court to practice your backhand, serve, or volley? Stop by one of the City of Cornwall's five double outdoor tennis courts. Use of the courts is on a first come, first play basis.
Broadview Park: Henry Street and Thirteenth Street
Kinsmen Park: Third Street and Carleton Avenue
Mattice Park: Edward Street and Lennox Street
Riverdale Park: Riverdale Avenue and Peter Street
Terry Fox Memorial Park: Mercier Avenue and Ross Avenue

Indoor Tennis, Pickleball & Badminton
Book indoor tennis, badminton and pickleball courts at the Benson Centre by calling 613-938-9898 ext. 0.
Contact Us