The Lower Level of the Convention Centre houses the Salons, Trade Concourse and Hall of Fame, and is accessible from the main stairwell, two elevators and two interior stairwells.
Salons A, B and C
The Salons offer an attractive and modern setting for meetings, banquets and receptions. The centre Salon B is the showcase room, with a Western windowed wall looking out onto a patio and Lamoureux Park. The addition of Salons A and C, expand the capability to 600 for banquets.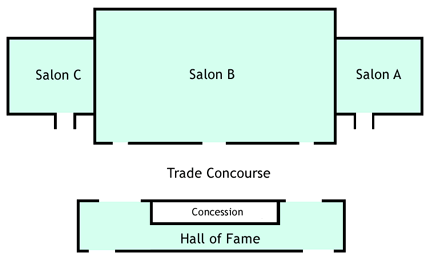 Trade Concourse
The trade concourse is a large hallway with an expansive corridor, ceramic tiles and warm brick walls. Subtle lighting helps create a unique ambiance, and the concourse is an ideal "spillover area" for events in the Salons.
Hall of Fame
The Hall of Fame Room houses the Cornwall Sports Hall of Fame, and offers an informal transition area between the Salons and the Arena itself. A full service canteen opens onto the Hall of Fame room.
Details
The following chart provides details as to the seating capacity and dimensions of the lower level rooms.
Room
Theatre Style

Banquets
Receptions

Meetings
Seminars

Width
Length
Square Feet
Ceiling Height
Trade Concourse
19'
222'
4,218
12'
Salons A, B, C
830
700
800
185'
185'
8,800
11-12'
Salon A
140
115
130
40'
36'
1,440
11'
Salon B
550
470
540
56'
106'
5,936
12'
Salon C
140
115
130
40'
36'
1,440
11'
Hall of Fame
200
22'
112'
2,464
12'
For more information, view the contact information below
Contact Us