Project Background
The City's Official Plan and 2006 Critical Infrastructure identified the need to extend Lemay St to provide additional east-west capacity and improve access to Municipal Works Yard on Ontario St. An Environmental Assessment (EA) to widen Lemay St., extend Lemay St. easterly to McConnell Ave., and improve the intersections of Lemay St. at both Sydney St. and McConnell Ave., was completed in September 2016. The preferred design selected involved a straight connection between the two sections of Lemay St. as well as cycling lanes and sidewalks.
Two intersections will be converted to full access roundabouts: at Thirteenth St. E./Reneal St./Lemay St./Sydney St. and at Lemay St./McConnell Ave.
The proposed design satisfied the project's needs and opportunities by improving traffic operations at the intersection of Thirteenth St./Lemay St. at Sydney St. and improving the accessibility to the Municipal Works Yard. It also provides residents of Cornwall with more connectivity in the east-west direction, improves emergency response time and enhances connectivity for active transportation with the addition of cycling lanes and sidewalks.
The reconstruction of Lemay St. from St. Michel Ave. to Sydney St. (Phase 1) was completed in 2017. Phase 2 was completed in 2018/2019, and included the construction of Lemay St. through the proposed road allowance from St. Michel Ave. to the east limits of the Municipal Works Yard. Phase 2 further accommodated the Municipal Works Yard redevelopment, in particular the Salt Storage Shed. Phase 3 is comprised of the reconstruction of Lemay St. from Aubin Ave. to Sydney St. which includes the proposed roundabout at the Lemay St./Sydney St./Reneal St./Thirteenth St. intersection.
In 2019, it was proposed to fund Phase 3 of Lemay St. over the course of two years beginning in 2019. The 2019 Capital Budget included $500K to fund Engineering Services, Geotechnical Investigations and property acquisitions associated with Phase 3 and 4. The $500K in 2019 was also to serve as the municipal component of a funding application if a program became available. Included in the 2020 Capital Budget is the remaining $2.5M required to fund the construction of Phase 3. In 2019, the Federal and Provincial governments announced the Investing in Canada Infrastructure Program (ICIP) in which the City submitted an application for Lemay Street Phase 3.
In the summer of 2019, it was announced that the City's application had been nominated by the Province for the program pending Federal Government review/approval. The Federal Government was expected to announce the successful applications following the Federal Election. The City is still awaiting this announcement from the Federal Government.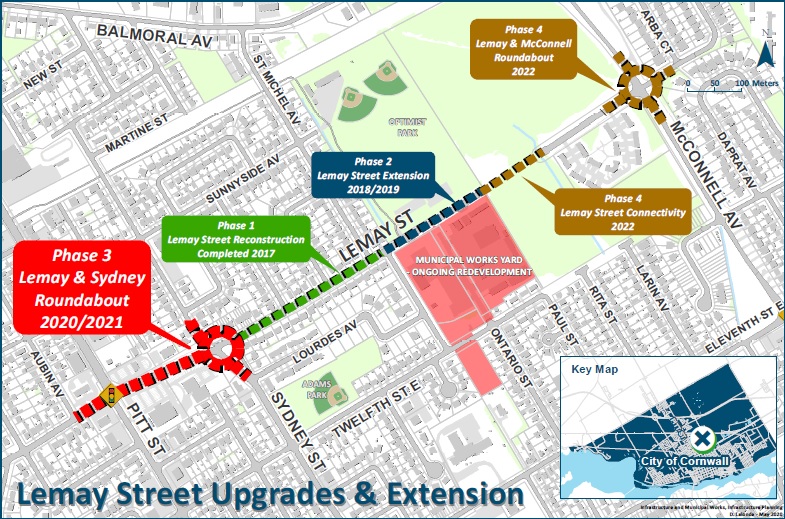 Contact Us